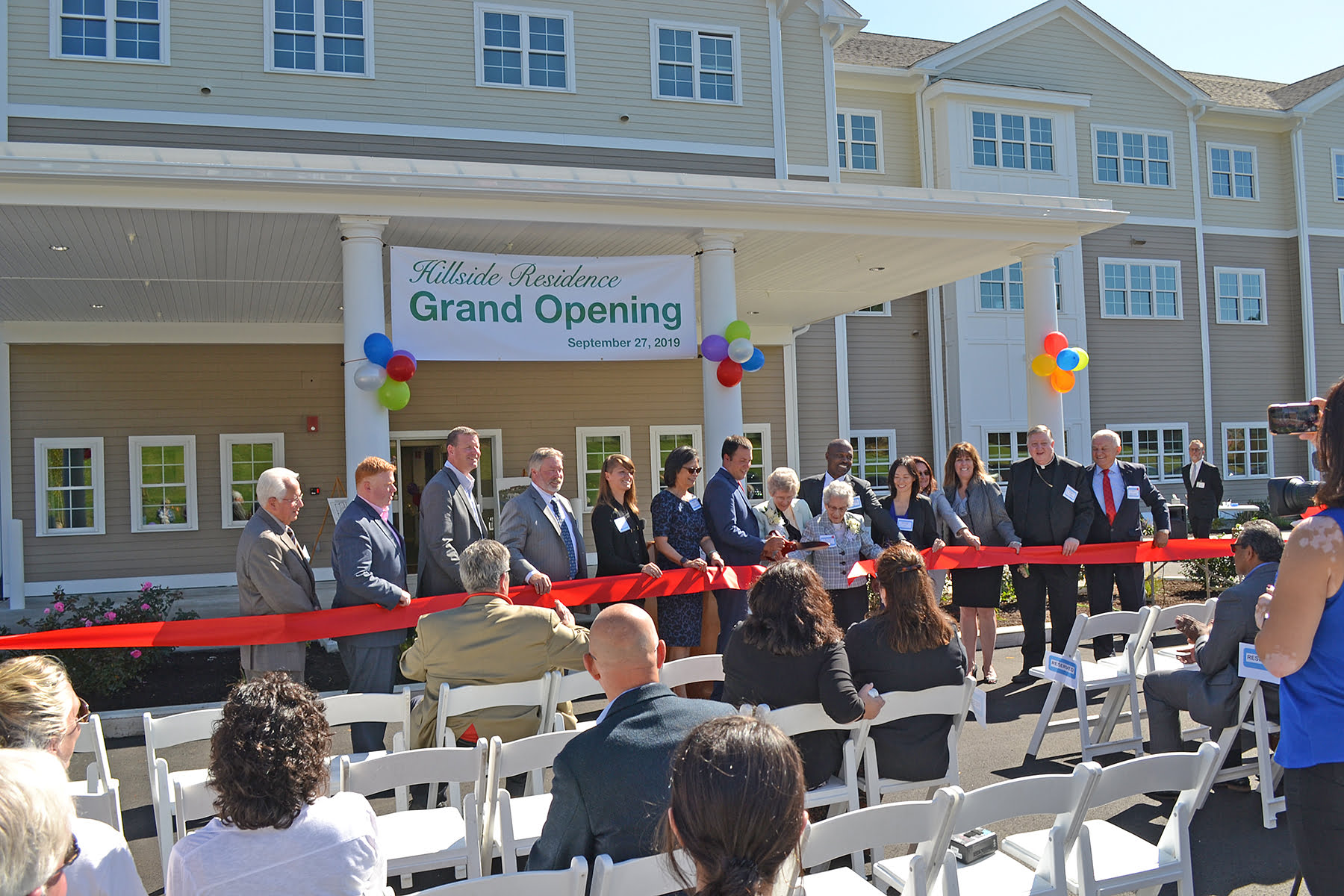 The grand opening of Hillside Residence in West Springfield took place on Friday, Sept. 27 at 10:30 a.m. at the former location of Brightside.
This innovative, health care-integrated housing model offers 36 rental units for low income elders. It was a development completed by the Sisters of Providence. Sister Kathleen Popko, president of the Sisters of Providence, said the project began more than 10 years ago with the closing of Brightside for Families and Children. She said the Sisters of Providence were looking to the future and how they could use the 27-acre campus most effectively to serve the community.
"So it is an exciting day for us and it has been a tremendous amount of work. Here is a way to demonstrate that collaboration and working together can lead to wonderful results that benefit the common good of the community," said Sister Popko.
The Sisters of Providence had the 77,000-square-foot De Paul Center, which was the administration building for Brightside and now contains several health-related groups including Mercy Life. Mercy Life, a Medicare/Medicaid program will be providing the health services for occupants of Hillside Residence. Sister Popko said she was pleased to celebrate the grand opening of Hillside Residence on the feast of St. Vincent De Paul, the patron saint of the Sisters of Providence.
"St. Vincent (de Paul) was noted for his care of the poor, the orphan, the neglected, the people who are on the streets, and we live out that charism. I feel that this project reflects that commitment to those who are most in need," said Sister Popko.
Hillside Residence received funding and support from both public and private entities and was awarded state and federal funds from the Housing Stabilization Fund, the National Housing Trust Fund, Housing Innovation Fund Program and Massachusetts Rental Voucher Program project-based subsidies. In addition, grants from the Harry and Jeanette Weinberg Foundation and West Springfield's Community Preservation Committee contributed to the funding for the $9.2 million project.
West Springfield Mayor William Reichelt joined other local and state leaders at the grand opening. Mayor Reichelt first became involved with the project in 2012 when he was a member of the Community Preservation Committee. He said the Sisters of Providence, especially Sister Popko, have been tenacious in tracking down funds to make the development happen.
"West Springfield is becoming an age-friendly community. That is our goal, to keep our residents here. If they do need services and are not able to stay in their home this is a great option for them. The sisters run a great program anyway, but to incorporate this as well is a huge asset for West Springfield," Mayor Reichelt said.
"Affordable care, especially in 2019, it is tough, housing is tough. So, to have that care and housing all in one piece and be in West Springfield, it's a huge bonus. We are very excited," he said.
Major donors and individuals involved with Hillside Residence were in attendance at the grand opening. Also, many elected officials and dignitaries from the Department of Housing and Community Development, the Massachusetts Office of Elder Affairs and the Community Economic Development Assistance Corporation offered comments during the event.
"That is a true, true, true gift to somebody aging with chronic illness. Hillside Residence also creates an environment that will provide the essential elements of home, familiarity, comfort, and a sense of belonging, where independence is valued and changing needs are met. Bravo for the respite units that you have here," said Elizabeth Chen, the state secretary of the Executive Office of Elder Affairs.
At the conclusion of the ceremony, Sister Popko asked all of the Sisters of Providence present to stand for recognition. Springfield Bishop Mitchell T. Rozanski blessed the Hillside Residence building with holy water and offered a prayer. Everyone was then asked to go inside as Sister Popko was surprised with the unveiling of her portrait and a plaque dedicating the building in her honor. A reception later took place while tours were offered of the units and community rooms.
A video version of this story will be featured on an upcoming edition of "Real to Reel" which airs Saturday evenings at 7 p.m. on WWLP-22 NEWS and in the Berkshires Sunday mornings at 5:30 on Albany's Fox 23, WXXA.