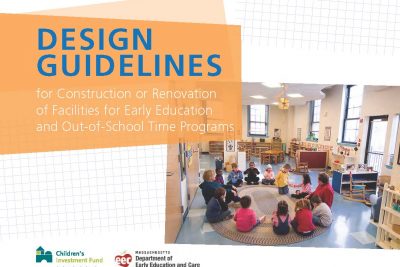 Guiding Quality Early Education Facility Design
/ /
A well-designed, well-equipped environment supports learning, but child care programs are often located in church basements, old storefronts, and other substandard spaces that were not intended for educational uses. At C...
Baker-Polito Administration Awards $4.1 Million fo...

/

The Baker-Polito Administration and the Community Economic Development Assistance Corporation (CEDAC) today announced $4.1 million in grant awards for facility improvements at early education and care programs that serve...

$1.1M announced for Head Start in Webster

/

Federal, state and local officials converged on a vacant School Street building Thursday to celebrate its future as an early childhood education facility, and the infusion of more than $1 million toward the effort. Lt...
Design Guidelines for Construction or Renovation of Facilities for Early Education and Out-of-School Time Programs
Published By Children's Investment Fund
Date May 2017
The Design Guidelines present standards and best practices unique to early childhood education (ECE) and out-of-school time (OST) facilities. The guide was created to be a resource for organizations applying to the Early Education and Out of School Time Capital Fund (EEOST), however the information is useful for all ECE and OST facilities in Massachusetts. Children's Investment Fund worked closely with the Massachusetts Department of Early Education and Care on the creation of guidelines.