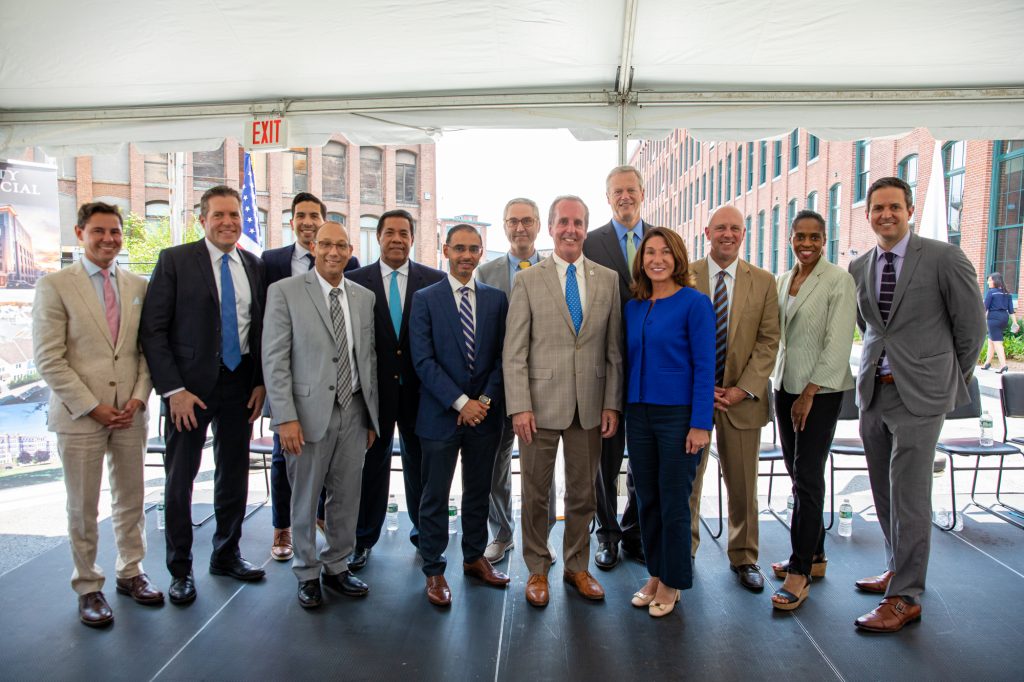 CEDAC staff were pleased to join Governor Baker in Lawrence on July 15th for his announcement of $139 million in new funding awards for affordable housing projects across the Commonwealth. The Governor was joined by Lt. Governor Polito, Executive Office of Housing and Economic Development (EOHED) Secretary Mike Kennealy, and Department of Housing and Community Development (DHCD) Undersecretary Jennifer Maddox (and CEDAC Board Chair), along with other state and local officials, to highlight the 28 projects that will receive funding from the state's latest rental round. Through DHCD, the Baker-Polito Administration awarded $93.3 million in direct subsidy funding and $45.8 million in federal and state housing tax credits. The awarded projects will result in 1,346 new units of affordable housing for low- and extremely low-income (ELI) households.
Rafael Mares, Executive Director of The Neighborhood Developers (TND), offered remarks on behalf of the various project sponsors that received awards. He explained that during the public health crisis, very few residents living in TND-owned housing had confirmed COVID cases, despite living in communities that experienced disproportionately high rates of infection. "Never has the connection between housing and health been as apparent and as immediate as during the pandemic," Rafael noted. Learn more about TND's tremendous efforts to provide residents with essential support to keep them safely housed throughout the pandemic here.
Governor Baker said in a press release, "As Massachusetts continues to recover from the COVID-19 pandemic, it is important that we continue to prioritize new affordable housing development to help our most vulnerable families," said Governor Baker in a press release. "Stable housing is the foundation of healthy, prosperous communities, which is why our administration has proposed an immediate infusion of nearly $1 billion in federal recovery funds to rapidly increase capacity for production in every part of the state."
"Here in Massachusetts, we have seen the negative impacts of our housing crisis affect nearly every region. Through our new Housing Choice reforms, new programs, and increased capital investments, the Baker-Polito Administration is helping move great projects forward, more quickly," said Housing and Economic Development Secretary Kennealy. "Solving our housing crisis helps all of our households, enabling our working families to put down roots in communities, stabilize vulnerable families, and provide opportunities for cities and town to grow. We are excited to deploy federal recovery funding to supercharge the pipeline of affordable housing in Massachusetts."
"Today's awards will bring new, affordable housing that meets the diverse needs of our Commonwealth, including new senior housing in Randolph, new permanent supportive housing for unaccompanied adults in Quincy, preservation of currently affordable housing in Holyoke, and new family housing in West Roxbury," said Housing and Community Development Undersecretary Maddox. "These projects will provide thousands of households with access to safe, quality, affordable housing in every region. Affordable housing development and preservation is an integral part of our strategy to address our housing crisis, and we are fortunate to have a rich ecosystem of stakeholders and developers committed to the future of Massachusetts and our families."
CEDAC works closely with DHCD to administer three supportive housing bond programs: the Housing Innovations Fund (HIF), the Facilities Consolidation Fund (FCF), and the Community Based Housing (CBH) program.
In its role as a predevelopment lender, CEDAC has committed a total of $13,711,548 in early stage financing to nine of 28 awarded projects, including:
555 Merrimack, Lowell – Coalition for a Better Acre (CBA) plans to redevelop the former Lowell House Addiction Treatment and Recovery (LHATR) site and develop 27 new affordable units and 1,600 square feet of commercial space. Eight of these units will be restricted to extremely low-income (ELI) households. There will be a preference for individuals continuing their recovery from substance use disorders, and LHATR will provide supportive services. CEDAC provided $15,000 in predevelopment and $756,000 in acquisition financing to CBA.
Amherst Supportive Studio Housing, Amherst – Valley Community Development Corporation (Valley CDC) will develop 28 new enhanced single-room occupancy (SRO) units, including twelve units reserved for ELI individuals. The property will have an on-site Resident Services Coordinator available to all residents and is one of the eight new construction projects that will be built to achieve Passive House energy efficiency certification. CEDAC provided $295,100 in predevelopment and $407,500 in acquisition financing to Valley CDC, along with funds through a Kuehn Planning Grant (KPG). CEDAC manages this grant program, which helps non-profit organizations in Massachusetts explore feasibility at the earliest stages of project development.
Broad Street Housing, Quincy – Father Bill's & MainSpring (FBMS) will develop a new multi-use facility in Quincy that will be developed in two phases. The first phase, which received funding in DHCD's 2020 Supportive Housing round, will consist of 100 emergency shelter beds and a day program center intended to address many of the shelter guests' needs. The second phase, which received funding from today's announcement, will create 30 studio units of permanent supportive housing for formerly homeless individuals. Moving this shelter facility to a nearby location will allow the city of Quincy to build a new police headquarters on the former site. CEDAC provided $200,000 in predevelopment funding to this project.
GBW Senior Apartments (Glen Brook Way Phase 2), Medway – Metro West Collaborative Development is developing Glen Brook Way in two phases. The first phase, which is under construction, will create 48 family rental units, and the second phase will create 44 units of permanent supportive housing for seniors. GBW Senior Apartments includes a robust service plan and places a strong emphasis on serving the most vulnerable seniors, with 8 units reserved for ELI households and three units designated for households at risk of institutionalization or homelessness due to physical disability. CEDAC provided $657,800 in predevelopment and $720,000 in acquisition financing to Metro West Collaborative Development, Inc., and the project also received a KPG.
Granite Street Crossing, Rockport – Harborlight Community Partners has purchased a 1.3-acre site in Rockport, where they will develop 23 new units of affordable rental housing, including 8 ELI units. The project will consist of 17 permanent supportive housing units for seniors in one building and six affordable family units in two adjacent townhouse buildings. CEDAC has provided the project with $331,148 in predevelopment and $564,000 in acquisition financing, including a $188,000 participation with LISC's Transit Oriented Development (TOD) fund.
Hillcrest Acres, Attleboro – In 2019, Hillcrest Acres, an existing 100-unit property in Attleboro, faced expiring affordability restrictions. Retirement Housing Foundation and The Schochet Companies utilized a $8.4 million preservation acquisition loan from CEDAC to purchase the property. As a result, all 100 apartments now have long-term affordability restrictions, and existing tenants no longer face the threat of displacement and are able to remain in their homes and community. CEDAC participated with Eastern Bank to provide the acquisition financing, and CEDAC's capital funding sources included program-related investments (PRIs) from both Bank of America and the John D. and Catherine T. MacArthur Foundation.
Merrimack Place, Haverhill – Bethany Community Services will construct 62 affordable, age-restricted units, with eight units designated for extremely low-income households, and provide a robust array of supportive services on site. Merrimack Place will be connected to the existing Merrivista project — a 150-unit affordable senior housing development — through a sky bridge, so that all residents have access to a library, hair salon, dining room, and additional support services. The project will feature a 5,000 square foot health and wellness center operated by Bethany. CEDAC has provided $650,000 in predevelopment financing as well as a KPG to Bethany Community Services.
Rosewood Way Townhomes, Agawam – Way Finders, Inc. acquired a 12.5-acre site in 2016, which has been subdivided into four lots. The organization will use 8.85 acres of the site to create 62 rental units in 10 townhouse style buildings and will retain the other lots for future development opportunities. Three units will be fully accessible, six units will be designated for formerly homeless households, and 20 units will be designated for ELI households. The project will also include 10 workforce units and five market-rate units. CEDAC has committed $800,000 in predevelopment financing to this project.
Voces de Esperanza, Holyoke –Valley Opportunity Council (VOC) will preserve an existing 36-unit project and create one new affordable housing unit. The two occupied buildings are owned and managed by VOC. The development will include two fully accessible units and ten units designated for ELI households. CEDAC has provided $15,000 in predevelopment financing for this project.
The 28 awarded projects will support the state's economic growth while providing families with financial stability. We are grateful that the Baker-Polito Administration has continued to demonstrate a deep commitment to increasing the production of housing that is affordable to households with a wide range of incomes despite the pandemic. Since 2015, the administration has invested more than $1.4 billion in the affordable housing ecosystem, resulting in the production and preservation of more than 19,000 affordable units. We look forward to continuing to work with our statewide partners to help ensure that each resident has a safe, affordable place to call home.