On August 15th at Crispus Attucks Children's Center in Dorchester, Governor Baker announced $4 million in FY18 Early Education and Out of School Time (EEOST) Capital Fund awards to the following organizations, each receiving $1 million:
Citizens for Citizens, Inc. in Fall River, which serves 200 children and plans to make playground improvements, window replacements, and critical safety and security upgrades to an existing Head Start program in a 118 year-old building.
Crispus Attucks Children's Center serves 200 children and will replace the HVAC system and make building envelope upgrades. It also plans to improve the design of its infant area and reconfigure toddler classrooms.
Elizabeth Stone House (ESH) in Roxbury provides an emergency shelter, transitional housing, and supportive services for both adults and children with a focus on trauma-informed care. ESH plans to construct a new 5-story multi-service building which will include 32 units of affordable housing and a licensed early childhood education (ECE) program serving 51 children.
Holyoke Chicopee Springfield Head Start, Inc. in Springfield will construct a new Educare model facility for 141 ECE children.
In his remarks, Governor Baker touted EEOST's success as a true public-private partnership, thanks to the millions of dollars that are leveraged by the state grant funds as well as the strong collaboration between Children's Investment Fund, CEDAC, non-profit ECE/OST providers across the state, and the Department of Early Education and Care (EEC).
"The EEOST capital improvement grants provide critical funding for non-profit early education programs to upgrade their facility spaces and provide better physical environments for the children they serve," EEC Commissioner Tom Weber said.  "We are pleased to make these awards as this public investment in building construction and renovation of early education programs will benefit children, local communities, and the state for years to come."
The FY19 EEOST round is now underway. Please visit the EEC Funding Opportunities page for details on how to access the application materials on COMMBUYS. Information sessions will be held on October 2nd and 4th.  The Children's Investment Fund and CEDAC administer the EEOST Capital Fund in conjunction with the Massachusetts Department of Early Education and Care.
For more information on EEOST, please contact Theresa Jordan at tjordan@childrensinvestmentfundma.org or 617-727-5944.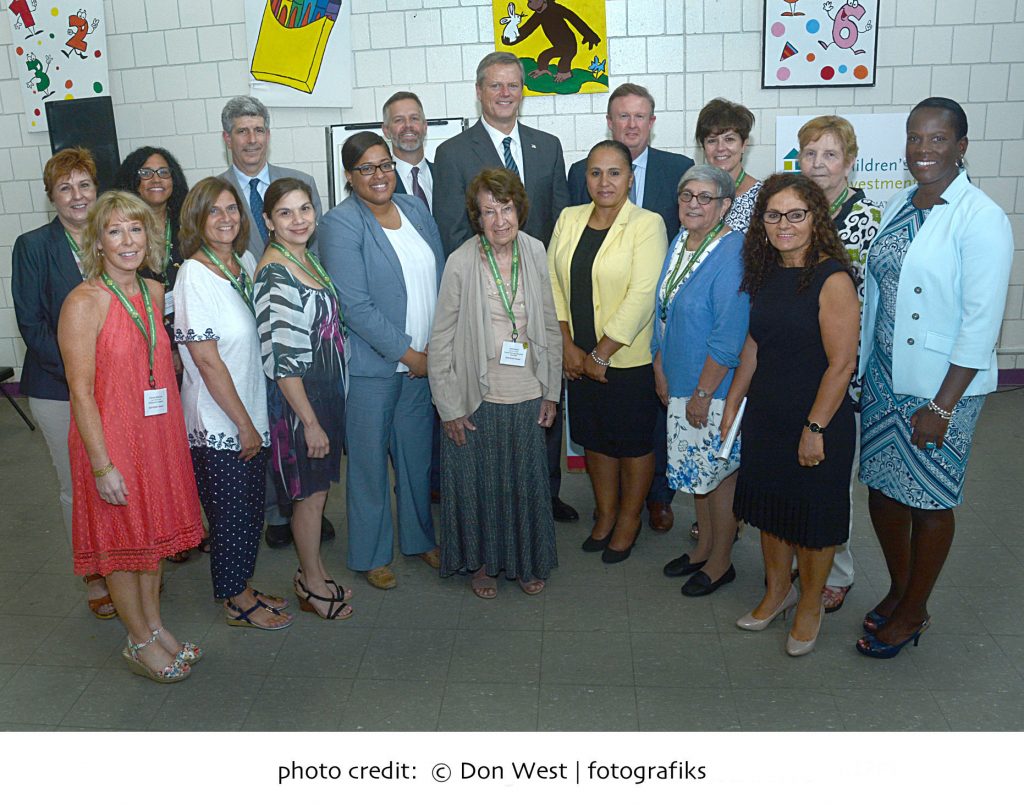 Pictured above: FY18 EEOST Awardees with Governor Charlie Baker, EEC Commissioner Tom Weber, State Representative Chynah Tyler, Crispus Attucks Children's Center (CACC) Executive Director Maritza Juliao, CACC Board Chair Daniel Farley, CEDAC Executive Director Roger Herzog, and Children's Investment Fund Director Theresa Jordan