Last November, the City of Boston chose a developer to turn the William Barton Rogers School, a former middle school in the City's Hyde Park neighborhood, into 74 new units of affordable housing for seniors.  And last month, the city announced that it would commit $2 million towards the completion of this project.  While an adaptive reuse of a middle school into senior housing may seem commonplace in a region that needs as many new affordable units as possible, this project is anything but common – it's on track to become New England's first LGBTQ-friendly senior housing complex.
The city's Public Facilities Commission designated Pennrose Development as the developer last fall for the William Barton Rogers school project, but the endeavor as a whole is, in fact, a partnership with a non-profit LGBTQ Senior Housing Inc. The mission of that organization is to facilitate access to welcoming, safe, affordable housing for low-income LGBTQ seniors, the need for which has been documented by the Massachusetts Commission on LGBT Aging and the most recent AARP Survey.  Additionally, the organization plans to support community space to serve LGBTQ seniors in the Greater Boston area, addressing issues of social isolation and depression documented in the Boston Indicators Equality and Equity Report.
"There is a pent-up demand for senior housing that's affordable but also safe and welcoming for LGBT seniors," said Aileen Montour, president of LGBTQ Senior Housing Inc, in a Boston Globe article. "This is a first for Boston, for Massachusetts, and for New England," she said of the Hyde Park project. In addition to developing housing, the non-profit will identify programs and services to support the residents who live there.
How did this groundbreaking new project begin?  Through the support of a Kuehn Planning Grant, a program that CEDAC manages to help the non-profit community development sector across the Commonwealth.  The program was established in 2016 with funding from the Kuehn Charitable Foundation (KCF), with the goal of helping non-profits explore a project's feasibility at the earliest stages of development.
Since inception, the Kuehn Planning Grants have supported 32 projects under development in Massachusetts. The grants assist a wide range of non-profits across the state, many of which serve specific populations and missions, such as ending veteran homelessness or assisting people with substance use disorders.
In a 2018 INSITES blog post, we highlighted Hope House, the first project completed with the support of a Kuehn Planning Grant, an expansion of housing for people in recovery.  In that post, Jennifer Gilbert, KCF's Executive Director, mentioned one "particularly innovative project" that was being funded by a Kuehn Planning Grant: LGBTQ-friendly senior housing that a Fenway Community Health Center task force was exploring.  It was that grant that helped to support the formation of LGBTQ Senior Housing Inc, the partnership with Pennrose Development, and the creation of the Hyde Park project.  This is precisely the kind of early stage community development initiative that the Kuehn Planning Grant was designed to support – helping vulnerable low-income populations that may not otherwise have the opportunity to access high-quality supportive housing.
The Hyde Park project is now in the application process for state funding resources that are necessary to complete the financing package – an important step for turning the vision of this project into a reality. We're proud to support this development and are excited to watch it move forward.
For more information on the William Barton Rogers School project, please visit LGBTQ Senior Housing Inc.'s website.  You can learn more about the CEDAC-administered Kuehn Planning Grants here and download the application here.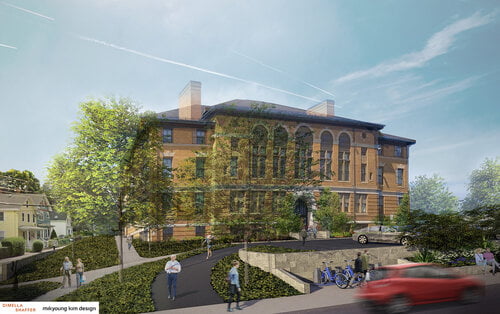 Pictured above: renderings of the LGBTQ-friendly senior housing complex in Hyde Park. Photo Credit: DiMella Shaffer and Mikyoung Kim Design.